BACnet Utility
Jump to navigation
Jump to search

The BACnet Utility application allows you to find all BACnet/IP devices available on the network, to show all objects of a device, and all properties and values of any object instance. It also supports writing values to writable properties. Whenever a BACnet I/O Server is defined in HSYCO, the BACnet Utility will appear among the applications of the manager.
To discover all BACnet/IP devices, simply leave the BACnet Device ID field empty and press the browse icon. If the browser finds any BACnet devices, they will be listed in a pop-up selection box, with device ID, vendor ID and IP address.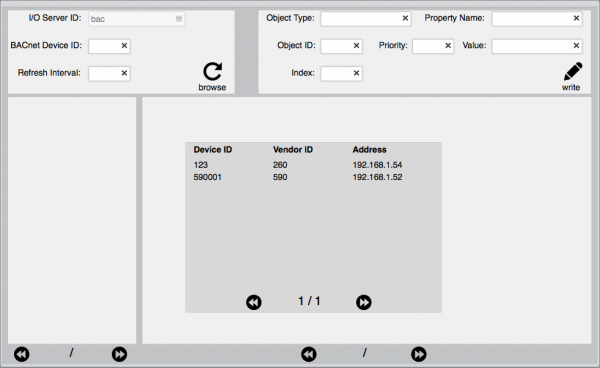 Touch a line to select that device, and the browser will show all object instances for that device.

 The BACnet I/O Server doesn't support segmented messages. Segmented messages could be required to return the list of all object instances of a device. Because of this, the BACnet Utility may not be able to browse devices having a lot of object instances.

Touch any object instance to show all properties and values for that object. To manually update the values, simply press the browse icon again. You can also enter a refresh interval in seconds and press browse to automatically refresh values.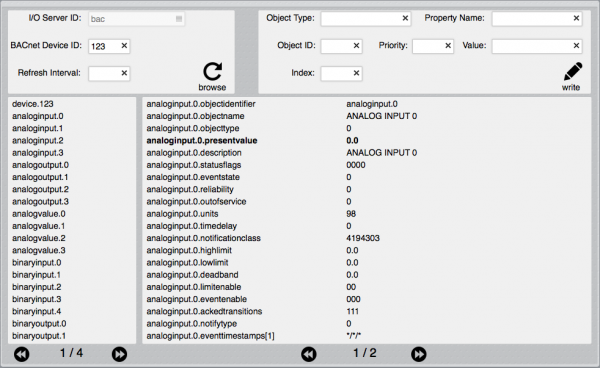 Properties that are writable, are highlighted. Touch any writable property to fill the fields in the write box, then set the new value and priority if needed, then press the write icon to write the new value to the device.