Manager
Jump to navigation
Jump to search
The Manager is the Web-based toolkit of applications that you will use to create customized graphic user interfaces and access all system's configuration files.
The Manager runs on most modern Web browsers, including tablets like Apple's iPad. It also runs on small screen devices like the iPhone or iPod touch, although a larger screen size is advisable for ease of use. Microsoft's Internet Explorer versions 8 and older are not supported, and IE9 is not guaranteed to work, although it should in most cases.
To access the Manager, enter the following URL in your Web Browser:
https://192.168.0.50/hsycoserver/manager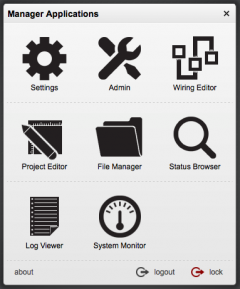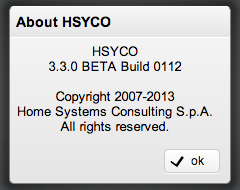 You need to authenticate using a PIN with administrator privileges to use the Manager.

The Manager has several applications:

You can switch between applications from any application using the

button on the top bar.
Using a PC with a physical keyboard, you can also press [Ctrl] and [Shift] at the same time for fast switching between applications. An application selection panel appears until you keep the [Ctrl] key pressed; select the application you need by repeatedly pressing [Shift], then releasing [Ctrl].