Kissbox
Jump to navigation
Jump to search
KissBox DMX-512 is a Ethernet DMX adapter that allows HSYCO to control any DMX-512 standard bus.
Multiple Transceivers can be set up to work together and distribute up to 64 universes of DMX across the network. The DMX-512 Transceiver has to be set to use the TCP/IP protocol.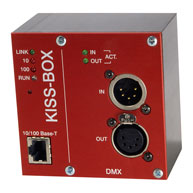 Check the KissBox site for additional information.
Connections
The KissBox DMX-512 connects to an Ethernet port on HSYCO Server, and is powered through the Ethernet, so there is no need for an external power supply.
You can connect multiple KissBox DMX-512 devices or other DMX controllers to an HSYCO Server.
HSYCO Configuration
Add a DMX Gateway in the DMX Gateway section of the Settings and set its parameters:
Communication
IP Address: IP address of the KissBox DMX-512
IP Port: TCP/IP port to use.
Once the KissBox is configured in the DMX Gateway of System Settings, you will be able to control the DMX-512 bus as with any other supported DMX controller on HSYCO.
Release Notes
3.1.0
---

KissBox DMX-512 is a registered trademark of Kissbox.